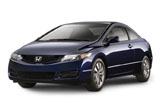 At Bender Honda in Clovis, we happily serve our local and surrounding communities with great products and services. Our customers know first-hand that we are committed to excellence in all departments of our dealership and they constantly share their stories with our staff. We are pleased to bring you these ''true'' stories.

Attention Customers:

Thank you for trusting Bender Honda with all your automotive needs. Please use the form below to share your stories with us so we can share them with our community. We look forward to hearing from you.

Bender Honda
3000 Mabry Drive
Clovis, NM 88101
Phone: 888-968-3702
Fax: 575-769-1814
NEW VEHICLES SALES
Phone:
888-968-3702
Fax:
575-762-3701
Mon.
8:00 AM - 6:00 PM
Tue.
8:00 AM - 6:00 PM
Wed.
8:00 AM - 6:00 PM
Thu.
8:00 AM - 6:00 PM
Fri.
8:00 AM - 6:00 PM
Sat.
9:00 AM - 6:30 PM
Sun.
Closed
PRE-OWNED SALES
Phone:
888-968-3702
Fax:
575-769-1814
Mon.
8:00 AM - 6:00 PM
Tue.
8:00 AM - 6:00 PM
Wed.
8:00 AM - 6:00 PM
Thu.
8:00 AM - 6:00 PM
Fri.
8:00 AM - 6:00 PM
Sat.
9:00 AM - 6:30 PM
Sun.
Closed
SERVICE
Phone:
575-762-3701
Fax:
575-769-1814
Mon.
7:30 AM - 5:30 PM
Tue.
7:30 AM - 5:30 PM
Wed.
7:30 AM - 5:30 PM
Thu.
7:30 AM - 5:30 PM
Fri.
7:30 AM - 5:30 PM
Sat.
Closed
Sun.
Closed
PARTS
Phone:
575-762-3701
Fax:
575-769-1814
Mon.
7:30 AM - 5:30 PM
Tue.
7:30 AM - 5:30 PM
Wed.
7:30 AM - 5:30 PM
Thu.
7:30 AM - 5:30 PM
Fri.
7:30 AM - 5:30 PM
Sat.
Closed
Sun.
Closed
FINANCE
Phone:
575-762-3701
Fax:
575-769-1814
AUTO BODY
Phone:
575-762-3701
Fax:
575-769-1814