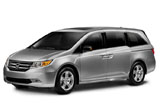 To help you maintain mobility while you service your vehicle at Bender Honda, we have arranged with a local Rent-A-Car company to provide you with rental services. You may qualify for special discounts, and in some special service cases, we may cover the rental 100%.

Rental Online Reservation

Use the form below to submit a Rental Reservation request. The appropriate party will contact you accordingly to facilitate the process. For faster service, please provide as much information as possible.

Bender Honda
3000 Mabry Drive
Clovis, NM 88101
Phone: 888-968-3702
Fax: 575-769-1814
NEW VEHICLES SALES
Phone:
888-968-3702
Fax:
575-762-3701
Mon.
8:00 AM - 6:00 PM
Tue.
8:00 AM - 6:00 PM
Wed.
8:00 AM - 6:00 PM
Thu.
8:00 AM - 6:00 PM
Fri.
8:00 AM - 6:00 PM
Sat.
9:00 AM - 6:30 PM
Sun.
Closed
PRE-OWNED SALES
Phone:
888-968-3702
Fax:
575-769-1814
Mon.
8:00 AM - 6:00 PM
Tue.
8:00 AM - 6:00 PM
Wed.
8:00 AM - 6:00 PM
Thu.
8:00 AM - 6:00 PM
Fri.
8:00 AM - 6:00 PM
Sat.
9:00 AM - 6:30 PM
Sun.
Closed
SERVICE
Phone:
575-762-3701
Fax:
575-769-1814
Mon.
7:30 AM - 5:30 PM
Tue.
7:30 AM - 5:30 PM
Wed.
7:30 AM - 5:30 PM
Thu.
7:30 AM - 5:30 PM
Fri.
7:30 AM - 5:30 PM
Sat.
Closed
Sun.
Closed
PARTS
Phone:
575-762-3701
Fax:
575-769-1814
Mon.
7:30 AM - 5:30 PM
Tue.
7:30 AM - 5:30 PM
Wed.
7:30 AM - 5:30 PM
Thu.
7:30 AM - 5:30 PM
Fri.
7:30 AM - 5:30 PM
Sat.
Closed
Sun.
Closed
FINANCE
Phone:
575-762-3701
Fax:
575-769-1814
AUTO BODY
Phone:
575-762-3701
Fax:
575-769-1814